Enjoying the Winter Olympics together
Views: 7 Author: 2022-02-11 China Construction Machinery Trading Network Publish Time: 2022-02-11 Origin: 2022-02-11 China Construction Machinery Trading Network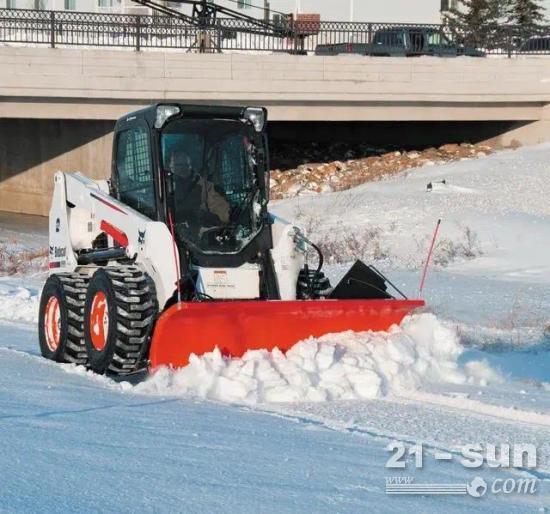 Build a dream of ice and snow, and go to the future together. The 2022 Beijing Winter Olympics are in full swing, and the capital Beijing will also go down in history as the "city of double Olympics". On the field, athletes from all over the world fought hard and showed their heroic appearance. Outside the venue, many supporting facilities have been put into use to provide convenience and guarantee for everyone to better enjoy the Winter Olympics, including the Bobcat skid steer loader that shovels ice and snow and fights on the front line.
Since this winter, the snow has been falling continuously, and the bobcats are very busy removing snow. As the saying goes, auspicious snow is a good year, which indicates a good harvest of crops. At the same time, the bobcat slips in every corner of the city, and uses actions to protect the safety of one party.
The Bobcat Angle Sweeper is an economical and practical road sweeping equipment. It has a large diameter brush, a high torque motor, and a hydraulic operation mode, which is very efficient. Applicable to many occasions, including roads, squares, docks, warehouses, etc., especially suitable for road and snow cleaning.
For snow removal, the Bobcat snow blower is one of the ideal cleaning tools. The snow can be thrown up to 10 meters away from the non-road area through the front duct, which is especially suitable for clearing large-scale road snow. At the same time, a "loading duct" can be installed to "blow" the snow directly into the transport vehicle, and efficiently remove it to the outside of the city. Bobcat skid steers have flexible steering, small equipment footprint and minimal impact on traffic.
In addition, when a large area of snow needs to be cleared in places such as driving lanes, parking lots, service areas, etc., the powerful tool of the Bobcat snowboard can be used to easily do it. It is very efficient to clear snowdrifts in open areas, and it is easy to install and flexible to use. Its unique anti-buffer device can effectively protect the road surface and equipment with high safety.